Pricing and sizes
I have attempted to make it easier for you to get an idea of pricing. As an artist, I've attended a number of arts and crafts shows in which artists sell prints or reproductions of their work. In many cases artists will sell prints for a fraction of the cost of an original. As an alternative to printing or trying to reproduce a drawing done on wood I've focused on doing originals which vary in complexity and technique. Normally I'll work on smaller sketches for a while before I dedicate myself to one of the larger pictures. Its simply a matter of mood.
Pricing
Pricing is dependant on many things. It is always better to price artwork after completion. As a rule I'll try to work out a reasonable deposit based on past sales of similar work. Currently pictures featured on this site range between $50-$1000.00, depending on size, subject matter and overall artistic appearance. Whatever the case, we can work with people to come up with a fair price on custom work.
Payment:
Payment can be made by personal check, money order or by credit card Online, in person or by phone.
Guarantee
These pictures have a guarantee covering frames for workmanship and material for 5 years. This covers frame glue joints and picture mounting only. We also have a repair and restoration service for those who need assistance. We ask that customers who would like alternative framing contact us before attempting to do it themselves. A professional woodworker who is familiar with framing can also do this. Damage due to shipping should be reported as soon as possible. Coverage on this type of damage will only be covered by the postal Insurance. It is the customers sole responsibility to maintain this insurance if he sends the picture back to "John Myers - Nautical Art". In the case of returns which are not insured through the respective mail service, the loss of and/or the damage incurred to the art work is the responsibility of the person shipping it.
Shipping and handling: Pictures are normally shipped through UPS, Fed Ex and/or Priority mail. Average cost for a picture with $400.00 Insurance is $10-12$ Whatever the case, shipping costs will simply be added. Maryland residents will pay a 5% sales tax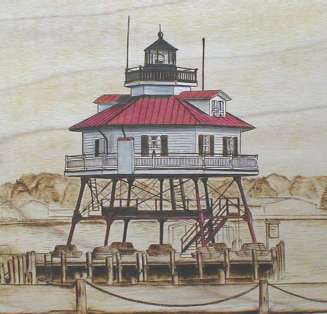 Download Brochure (349k).doc